Sustainable Development Goals Data Hub
Welcome to the Government of Canada Sustainable Development Goals Data Hub, hosted by Statistics Canada.
Statistics Canada is the central focal point for reporting Canada's data for the global Sustainable Development Goals (SDG) indicators as well as for domestic indicators reported in The Canadian Indicators Framework (CIF) for the Sustainable Development Goals.  More information on the CIF can be found on the About Canada and the Sustainable Development Goals page.
Statistics Canada also works as a coordinating body for the National Statistical System. Statistics Canada is responsible for the collection, collation, analysis, presentation and dissemination of data for regular monitoring of Canadian progress against the global indicators and has developed this on-line data hub for disseminating Canada's SDG data.
Statistics Canada is continuing to examine data sources that may be useful for reporting on SDGs and over the coming months will continue to add data, statistics, and data visualization features.
Canadian Statistics for the SDG Global Indicators can be accessed by selecting the Goals below. Statistics for Canada's domestic indicators can be accessed through the Canadian Indicator Framework for the Sustainable Development Goals Data Hub.
If you have further questions, or would like to provide feedback on the SDG Data Hub please contact: statcan.sdg-odd.statcan@statcan.gc.ca.
---
Sustainable Development Goals
Features
Human Activity and the Environment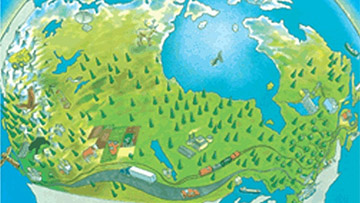 Human Activity and the Environment is an annual publication that focuses on a current environmental issue. The latest information and statistics are gathered from many sources to produce an in-depth analytical article.
Report a problem on this page

Is something not working? Is there information outdated? Can't find what you're looking for?

Please contact us and let us know how we can help you.
Date modified: