Transportation Data and Information Hub
January 2019

January 2019

January 15, 2018

Transport Canada's bikeability model

As part of its Transportation 2030 policy goals to create safer, greener and more efficient transportation networks across Canada, Transport Canada is focusing on building and maintaining safe, efficient and connected cycling networks. As a result, the Department developed a bikeability model using multiple urban mobility indicators with an increased focus on safety. This model measures infrastructure readiness for enabling cycling as a safe and efficient commuting option. It is intended to inform infrastructure investments and active mobility policies in order to maximize the efficiency of and safety improvements to Canada's cycling network at a minimal cost.

The model was developed in Ottawa and is currently being tested in Sherbrooke, Quebec, and Mississauga, Ontario. It was built to generate both the fastest and the safest routes on a specified origin–destination pair. If testing proves successful, the bikeability model could be expanded on a much larger scale and help guide infrastructure investments to support safe and efficient active transportation across Canada.

Figure 1 and Table 1 show an example of the model being tested in Ottawa.

Figure 1: Bikeability model proof of concept: Fastest (top) and safest (bottom)

Description for Figure 1

The figure includes two images of downtown Ottawa, showing two bike routes between the same start and end points.

The first image shows the fastest route. The fastest route involves taking more turns and biking a short distance on various streets. The route is estimated to be 14 minutes long.

The second image shows the safest route. The safest route involves only turning when necessary and biking long straight distances. The route is estimated to be 18 minutes long.

Table 1: Summary of case-study simulation trip results
Average value
Safest route
Fastest route
Approximate change (%)
Trip length (m)
4,961
4,724
5
Trip duration (min)
23.94
21.18
13
Average speed (km/h)
12.4
13.4
7.5
Source: Szyszkowicz, S. (2018). Bikeability as an Indicator of Urban Mobility. Carleton University, Ottawa, Ontario.

For more information, please contact Statistics Canada (toll-free 1-800-263-1136; 514-283-8300; STATCAN.infostats-infostats.STATCAN@canada.ca).
December 2018

December 2018

December 20, 2018

Canadian Freight Analysis Framework hackathon

From October 29 to October 31, five teams participated in a hackathon to examine new ways of using Canadian Freight Analysis Framework (CFAF) data.

A hackathon is a sprint-like event that brings people from diverse backgrounds together to solve a problem or develop a product. This was one of several hackathons that took place this year at Statistics Canada with a variety of partners. For example, Statistics Canada worked with Agriculture and Agri-Food Canada in a previous event that focused on how to better understand and predict disruptions of the grain transportation and handling system. Hackathon participants work in teams over a period of just a few days, and they are encouraged to be bold in their thinking to come up with innovative solutions or prototypes. To conclude the hackathons, each team gives a presentation to their peers and a panel of judges. The judges then select an idea to develop further, until it is ready for implementation.

The first iteration of the CFAF database was released in March 2018. It integrates data from several sources to create a comprehensive picture of freight flows across the country by geography, commodity and mode of transport. Participants were asked to use the database to create meaningful tools or visualizations for Canadians.

Three of the five teams were located in Ottawa and comprised individuals from Transport Canada, Statistics Canada and Sustainable Development Technology Canada. The other two teams participated remotely: one from the University of Toronto, and the other from the Cross-Border Institute at the University of Windsor. Each remote team was supported by a member of the Transportation Statistics Research Section, on location.

The teams were working with a synthetic microdata file, which was specifically created for this event. A synthetic data file is a file that has been subtly modified to protect confidentiality, while leaving the information required for analysis unchanged.

Over the course of three days, the teams developed many compelling visualizations and proofs of concept. On the final day, they presented their ideas, which varied from a CO2 emissions calculator to a dashboard that maps freight flows onto transportation infrastructure and models disruptions. Statistics Canada and Transport Canada are currently considering which idea or ideas to move forward with.

This hackathon illustrates Statistics Canada's push to make data more accessible and to engage a broader range of Canadians. This is part of Statistics Canada's modernization agenda, which focuses on user-centric service delivery, leading-edge methods and data integration, statistical capacity building and leadership, and sharing and collaboration. The hackathon shows how the Canadian Centre on Transportation Data is supporting the development of new tools and applications to promote the flow of transportation-related information and knowledge and to enhance understanding and decision making. Finally, it supports Transport Canada's efforts to provide shippers with access to transportation data to better optimize their routes and improve the fluidity of supply chains.

For more information, please contact Statistics Canada (toll-free 1-800-263-1136; 514-283-8300; STATCAN.infostats-infostats.STATCAN@canada.ca).
Rail indicators

Rail indicators

December 10, 2018

Freight Rail Service and Performance Indicators

Statistics Canada and Transport Canada are working together to provide Canadians a more detailed picture of the country's transportation system and its operation.

On behalf of Transport Canada, Statistics Canada has released a set of freight rail service and performance indicators requested as part of theTransportation Modernization Act. The Act provides a strengthened suite of measures for all major freight rail companies, including new data provisions that improve the transparency of the supply chain, and help to proactively identify and address transportation challenges in the future.

Starting this month, Canada's major freight rail companies, including Canadian National Railway and Canadian Pacific Railway, are required to submit specific data on their service and performance on a weekly basis. As of today, this information is available in four tables on the Statistics Canada website as well as a summary table on the Transportation Data and Information Hub of the Canadian Centre on Transportation Data.

Specifically, the tables include information such as average train speed, dwell times at origin and major terminals, the number of cars on line, causes of major delays, and car order fulfilment for grain orders. This information is being collected and made publicly available to increase the understanding of how well Canada's freight rail system is working, and key areas where it can be improved.

The new data requirements under the Transportation Modernization Act will greatly improve transparency in the freight rail system in Canada, enabling shippers and the public to more closely monitor the network, supporting the early identification of service challenges before they escalate. This increased transparency will also encourage railways to communicate openly with their customers when they become aware of system challenges.

The freight rail service and performance indicators are not collected under the Statistics Act. Under the Transportation Modernization Act, the data are reported by rail carriers to Transport Canada and then disseminated on the Statistics Canada website.

For more information, please visit The Daily release Freight rail service and performance indicators. To view the summary table, please see Weekly rail performance indicators.

For more information, please contact Alain Lumbroso (613-993-6254; alain.lumbroso@tc.gc.ca).
November 2018

November 2018

November 15, 2018

The value of air cargo

In October 2018, The International Air Cargo Association hosted the biennial Air Cargo Forum in Toronto. This forum brought together over 500 experts in the field of air cargo from all over the world, representing shippers, freight forwarders, air carriers, regulators, suppliers and academia.

The forum was an opportunity to discuss the latest topics regarding air cargo, such as digitalization, the use of blockchains, the introduction of artificial intelligence and the potential of unmanned air freight. More importantly, it was an opportunity to review the value of air cargo and its benefits to society.

Air cargo represents about 35% of global trade in terms of value, despite representing less than 1% of all global trade in tonnage.Footnote 1 According to the International Air Transport Association, 20 million parcels worth $25 billion and weighing 140,000 tonnes are transported by air cargo every day. These shipments are made up of a number of consumer and industrial goods, including 1.1 million smartphones, 80,000 flowers and almost 7,000 vaccines. Air cargo also plays a key role in disaster relief, bringing much-needed food, water and medicine to affected areas.

In Canada, 1.3 million tonnes of air freight were enplaned and deplaned at airports in 2017.Footnote 2 Toronto Pearson International Airport was the busiest, with 443,000 tonnes of air cargo, followed by Vancouver International Airport, with 281,000 tonnes, and Montréal–Pierre Elliott Trudeau International Airport, with 100,000 tonnes.

In 2017, air cargo represented $130 billion in international trade, making up 11.8% of Canada's international trade.Footnote 3 On a value basis, trade is mostly balanced in Canada, with exports accounting for 45% of the total value of trade. However, Canada tends to be a net importer on the United States, Asia and Latin America trade lanes, whereas it is a net exporter to Europe. Air cargo that is exported from Canada to the United States accounts for 30% of Canada's air exports. This indicates that Canadian air cargo exports are a much more diversified marketplace than Canada's overall trade picture, where the United States is the destination for 75.8% of Canada's exports.

Gold, aircraft parts and pharmaceuticals are some of the most important commodities transported as international air freight. Seafood, especially live lobsters, was a key export commodity worth about $400 millionFootnote 4 in Atlantic Canada alone. It was the top exported commodity for that region.

Although air cargo plays an important role in the Canadian economy, it is especially vital in the North. The territories, Labrador and Nunavik cover an area greater than 4.5 million km2 and have a population of about 160,000 inhabitants. Because aviation is the only year-round mode of transportation for many of these communities, the value of air cargo can be expressed not in terms of tonnage or dollars, but in terms of the lifeline that it provides to these communities: food, clothing and other material needs when no alternative exists.

In conclusion, the value of air cargo can be measured in a number of ways, whether it is how it supports Canada's mining, aerospace, pharmaceutical and agri-food sectors, or whether it is how it ensures that northern and remote communities have access to the food, medicine and goods they need. In either case, it is clear that air cargo plays an important role in the economy and is a key component of Canada's transportation system.

For more information, please contact Statistics Canada (toll-free 1-800-263-1136; 514-283-8300; STATCAN.infostats-infostats.STATCAN@canada.ca).
Welcome to the Transportation Data and Information Hub, developed in partnership by Transport Canada and Statistics Canada to provide you with an authoritative source of data and information about transportation in Canada. The Hub is part of the Canadian Centre on Transportation Data (CCTD).
Want to know more? Read more about the CCTD and the Hub.
Resources
The Canadian Transportation System
A healthy Canadian economy is strongly connected to a well-functioning transportation sector. Transportation allows products, services and people to access key markets at home and abroad. This helps create prosperity and economic opportunities. Employment in commercial transport industries accounts for about 5% of Canadian jobs, a share that has remained stable over the past two decades. In 2016, Canada's combined total household spending on transportation (including insurance) was $179.5 billion – second only to shelter, in terms of major spending categories. Household spending for personal travel accounted for about 10% of GDP. Read more about the Canadian Transportation System.
Features
Transportation 2030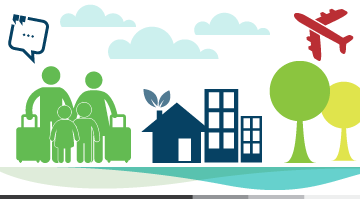 Transportation 2030: A strategic plan for the future of transportation in Canada
Canada and the World Statistics Hub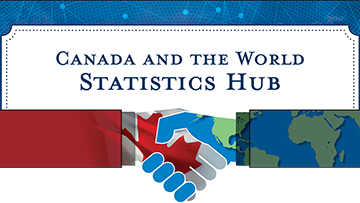 The Canada and the World Statistics Hub provides information related to Canada's economic and financial activity with the world. It brings together data from a number of Statistics Canada products and presents it in a single interactive analytical tool.