Transportation Data and Information Hub
July 2022

July 2022

July, 2022

Transport Canada has released its 2021 annual report

The report Transportation in Canada 2021 provides an overview of the Canadian transportation sector and includes information on:

the importance of the transportation sector to the economy
the performance of the transportation system from a multimodal perspective
major industry and regulatory developments related to freight, passengers, safety, security, and the environment for all modes of transportation

This year, as is mandated every five years, Transport Canada is publishing a comprehensive version of the Transportation in Canada report to expand upon the traditional reporting and include additional information on:

government expenditures and revenues, including those related to COVID-19,
trends and innovation within the transportation sector, and
the outlook of the transportation sector.

Furthermore, Transport Canada is expanding the interactivity of the e-book format adopted in 2020 and providing interactive mapping within the electronic document. Additional data and information tables from the Transportation Statistical Addendum will soon be published and available for public access.
May 2022

May 2022

May, 2022

New motor vehicle registrations: Electric vehicles end year with increasing market share

Statistics Canada recently released new motor vehicle registration data for the fourth quarter of 2021 in the Daily.

There were 1,646,609 new motor vehicles registered in 2021, increasing 6.5% from 2020. New registrations of multipurpose vehicles, such as sports utility vehicles (SUVs) and crossovers, increased 16.8% in 2021 from 2020, comprising over half (55.6%) of all new registrations. New registrations of passenger cars also increased (+1.2% in 2021), while those of pickup trucks (-6.5%) and vans (-13.9%) declined compared with 2020.

Zero-emission vehicles (ZEVs) reached a new milestone in 2021, ending the year accounting for 6.2% of all new vehicle registrations in the fourth quarter. ZEVs comprised 5.2% of all new vehicles registered during 2021, a gain of 3 percentage points since 2018. Within this group, 68.3% of new ZEVs registered in 2021 were battery-electric vehicles (BEVs) and 31.7% were plug-in hybrid electric vehicles (PHEVs), both increasing sharply from 2020. Higher numbers of new hybrid electric vehicles (+91.4%), gasoline-powered vehicles (+2.2%) and diesel-powered vehicles (+1.7%) were also registered in 2021.

More detailed data are available as far back as the first quarter of 2017. You can make use of a Quarterly data visualization tool here.
March 2022

March 2022

March, 2022

Vehicles, trucks and drivers entering or returning to Canada

Statistics Canada's Frontier Counts program counts entries into Canada by international travellers at ports of entry by mode of transport, country of residence, type and origin of traveller, and trip duration, as well as counts of automobiles, trucks and other land vehicles entering Canada. This program has been modified with coverage increasing from a subset of 111 ports using an electronic system called the Integrated Primary Inspection Line (IPIL) to all land ports equipped with the IPIL system.

As part of these modifications, new data tables are now available (List of tables) which include detailed information on the number of vehicles and trucks entering Canada. Table 24-10-0058-01 provides access to daily counts of vehicles, by vehicle type and licence plate (Province or State) while table 24-10-0059-01 contains daily counts of trucks and drivers entering Canada, by licence plate (Province or State).

The table on trucks and drivers entering Canada is available by day of the week, by specific port of entry and by licence plate of the vehicle. For instance, on Wednesday January 12th there were 4,832 trucks that entered or returned to Canada in the Windsor area. On that same day, 2,874 trucks crossed into Canada at the Sarnia port of entry.

On Wednesday February 9th, blockade protesters at the Ambassador Bridge prevented trucks from entering or returning into Canada, with the total of trucks entering into Canada in the Windsor area dropping to just 2. On that same day, at the Sarnia port of entry, a total of 5,119 trucks entered into Canada, with many of these trucks having been re-routed from the Windsor area to the Sarnia port of entry.

Concepts, definitions, data sources and methods for the Frontier Counts program are available in the document entitled "Frontier Counts (FC)".
November 2021

November 2021

November, 2021

The Canadian Tourism Activity Tracker is an experimental data product designed to help support Canadians and businesses as they navigate through the uncharted waters of a global health crisis. As part of an effort to shift from measuring impacts of the pandemic to assessing the recovery, it provides an overall picture of the relative performance of tourism-related activity in Canada over time. The Tracker combines data from numerous sources including counts of international arrivals, aircraft movements and rail passengers as well as hotel occupancy rates, restaurant sales and reservation bookings.

Weights are used to combine these various sources into a single estimate for a given month and geography. A domestic tourism value is calculated using domestic-related data, while an inbound value uses international-related sources. These two values are then combined with the level set to zero for each month in the pre-pandemic 2019 base year, both nationally and for each province. For a given month in subsequent years, a tracker value above zero indicates that tourism activity is greater than the 2019 base, while a value below zero indicates the opposite.

Information regarding the most recent edition of this tracker tool can be found in the following release of the Daily:  Canadian Tourism Activity Tracker, August 2021.
Features
Welcome to the Transportation Data and Information Hub, developed in partnership by Transport Canada and Statistics Canada to provide you with an authoritative source of data and information about transportation in Canada. The Hub is part of the Canadian Centre on Transportation Data (CCTD).
Want to know more? Read more about the CCTD and the Hub.
Also available: COVID-19 measures, updates, and guidance issued by Transport Canada
Resources
The Canadian Transportation System
A healthy Canadian economy is strongly connected to a well-functioning transportation sector. Transportation allows products, services and people to access key markets at home and abroad. This helps create prosperity and economic opportunities. Employment in commercial transport industries accounts for about 5% of Canadian jobs, a share that has remained stable over the past two decades. In 2016, Canada's combined total household spending on transportation (including insurance) was $179.5 billion – second only to shelter, in terms of major spending categories. Household spending for personal travel accounted for about 10% of GDP. Read more about the Canadian Transportation System.
Related products
Transportation 2030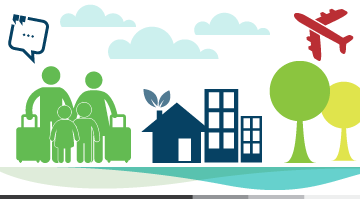 Transportation 2030: A strategic plan for the future of transportation in Canada
Canada and the World Statistics Hub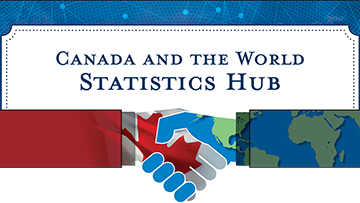 The Canada and the World Statistics Hub provides information related to Canada's economic and financial activity with the world. It brings together data from a number of Statistics Canada products and presents it in a single interactive analytical tool.
Report a problem on this page

Is something not working? Is there information outdated? Can't find what you're looking for?

Please contact us and let us know how we can help you.
Date modified: