Transportation Data and Information Hub
May 2019

May 2019

May 15, 2019

Estimating the movement of oil by pipelines in Alberta using administrative data

The Canadian Freight Analysis Framework (CFAF) provides a picture of freight flows across the country by geography, commodity and mode of transportation. Estimates are available by tonnage, value and tonne-kilometres. The database can be used to analyze a number of transportation-related matters, such as highway capacity, traffic forecasting, investments in infrastructure and trade flows.

In March 2019, Statistics Canada released the second iteration of the CFAF, covering the period from 2011 to 2016 for the airline, for-hire trucking and railway industries. Subsequent versions of the framework will add the remaining modes of transportation, including pipeline, marine, and own-account or private trucking.

Integrating pipeline data into the CFAF presents challenges because no data are collected specifically for this reason (i.e., as a transportation file). A methodology was developed as a proof of concept to generate the CFAF variables for oil transported by pipelines in Alberta using administrative data obtained from Petrinex.

Petrinex, Canada's Petroleum Information Network, is a joint strategic organization supporting Canada's upstream, midstream, and downstream oil and gas industry. The organization reports, manages, and exchanges up-to-date volumetric, royalty, and commercial information with governments and industry members. It is currently used in Alberta, Saskatchewan and British Columbia.

Volumetric data for each pipeline system in Alberta are reported to Petrinex on a monthly basis. The data include the amount of oil (crude, condensate and syncrude) moved between facilities (e.g., battery or tank terminal) for a given pipeline. Monthly CFAF data for oil transported by pipelines were generated from this source for January 2016 to February 2018. The monthly files contain the following variables: commodity, geography (origin and destination), number of shipments, volume (m3), weight (tonnes), distance and tonne-kilometres.

The distance between origin and destination pairs was calculated using the straight-line distance. Over long distances, the straight-line distance is likely considerably shorter than the network distance. To improve this variable, a spatial pipeline network for Alberta has been developed, using publicly available data from the Alberta Energy Regulator.

Next steps for the project will include incorporating data for the two additional provinces covered by Petrinex—Saskatchewan and British Columbia—using the developed methodology. For regions not covered by Petrinex, other data sources will be examined. Additionally, movements of natural gas by pipelines will also be integrated in the future.

For more information, please contact Statistics Canada (toll-free 1-800-263-1136; 514-283-8300; STATCAN.infostats-infostats.STATCAN@canada.ca).
April 2019

April 2019

April 15, 2019

Canadian Transportation Economic Account

Addition of household transportation to the 2014 Canadian Transportation Economic Account

Transportation is a major driver of the Canadian economy. Most of our goods are moved between markets by one or several modes of transportation (air, rail, water, pipeline and trucks). Passenger movements across Canada and internationally are also critical for the nation's economic health.

In 2018, the Canadian Transportation Economic Account (CTEA) expanded the supply and use tables to include own-account (i.e., private) transportation activities as distinct industries. As a result, the contribution of own-account transportation to the economy was made explicit. Previously, it was counted as non-transportation activity in other industries such as manufacturing or retail.

In 2019, the CTEA was expanded further to include the contribution of transportation undertaken by private households. With these two additions, the CTEA can now more fully assess the entire impact of transportation on the Canadian economy.

For-hire transportation accounts for only half of transportation-related gross domestic product

In 2014, transportation's contribution to Canada's overall gross domestic product, as measured by the CTEA, was estimated to be $153.4 billion. Of this total, household transportation activities (not including their value of labour) accounted for $58.3 billion (or 38%), own-account transportation (rail, water, air and truck) accounted for $18.9 billion (or 12%) and for-hire transportation (North American Industry Classification System code 48-49 less warehousing) accounted for $76.2 billion, or about one-half (50%).

Production of household transportation services rivals many industries

In 2014, private households produced $140.4 billion worth of transportation services, an output that rivalled the retail trade industry's production of $149.6 billion in the same year. In comparison, total own-account production of air, rail, water and trucking was $41.5 billion, and the for-hire transportation industry produced $160.1 billion in transportation services.

As input, household transportation used $22.1 billion worth of gasoline, diesel and biodiesel fuels; $745.6 million worth of tires; $8.2 billion worth of repair and maintenance services; and $2.5 billion worth of parking services.

Every dollar of household transportation output in 2014 required approximately 16 cents of gasoline, diesel and biodiesel fuels; 5 cents of automotive insurance services; and 6 cents of repair and maintenance services.

Most industries use more own-account than for-hire trucking

In 2014, most industries used more own-account trucking than purchased trucking services. In particular, the mining, oil and gas industries used 57% own-account trucking, while the retail trade industry used 92%.

The CTEA helps to quantify the transportation services—both for-hire and own account—embedded in the output of other industries. For example, every dollar of retail trade industry output required 6 cents worth of transportation services. Of those 6 cents, 4 cents comprised own account trucking. The mining, oil and gas industries used 3 cents worth of transportation services for every dollar of output.

Only the agriculture, forestry and manufacturing industries relied more heavily on for-hire services than on private trucking.

For marine transportation, the agriculture and forestry industries used more own-account (78%) than for-hire transportation services. Together, these two industries accounted for over 60% of total own-account water transportation.

The industries that produced the most own-account air transportation were government services and mining, oil and gas, which were also the largest users of own-account rail transportation.

For more information, please contact Statistics Canada (toll-free 1-800-263-1136; 514-283-8300; STATCAN.infostats-infostats.STATCAN@canada.ca).
March 2019

March 2019

March 15, 2019

Pre-load Air Cargo Targeting (PACT) pilot

The Pre-load Air Cargo Targeting (PACT) pilot is an exciting project led by Transport Canada's Aviation Security Directorate. The project uses air cargo data sent from freight forwarders and air carriers to identify high-risk shipments before they are loaded onto an aircraft coming to Canada. Since 2012, the Aviation Security Directorate has been working hard to develop the concepts to make this pilot successful.

Internationally, this concept is known as pre-loading advance cargo information (PLACI). Canada's PACT was the second pilot to test this concept and stands out among a handful of pilots testing PLACI concepts. In partnership with other Government of Canada departments and industry stakeholders, PACT has seen a rising influx of data. The PACT team receives an average of nearly one million air cargo messages per year from a limited number of voluntary industry participants. According to Canada Border Services Agency estimates, most air cargo comes to Canada from the United States (upwards of 75%), and the one million messages per year represent only around 15% of inbound air cargo.

Because Transport Canada recognizes the security value of the PLACI concept, the introduction of PACT has been deliberate and focused. Thanks to the recent departmental artificial intelligence initiative, the PACT team is on the cusp of developing the algorithms and message intake capability to handle a much larger volume of air cargo messages. This would provide the team with the tools to assess the risk for all messages received by PACT, and the capacity to receive more messages and intake from more voluntary participants.

In the next phase, and with assistance from the International Air Transport Association, the team will work with local companies to develop a message portal for handling all the data. The team will continue to develop the risk algorithm to better understand cargo information. The team will also look at a wider range of data to help Transport Canada targeters from the PACT team identify high-risk cargo and expand and increase the number of messages assessed for risk.

For more information, please contact Statistics Canada (toll-free 1-800-263-1136; 514-283-8300; STATCAN.infostats-infostats.STATCAN@canada.ca).
Welcome to the Transportation Data and Information Hub, developed in partnership by Transport Canada and Statistics Canada to provide you with an authoritative source of data and information about transportation in Canada. The Hub is part of the Canadian Centre on Transportation Data (CCTD).
Want to know more? Read more about the CCTD and the Hub.
Resources
The Canadian Transportation System
A healthy Canadian economy is strongly connected to a well-functioning transportation sector. Transportation allows products, services and people to access key markets at home and abroad. This helps create prosperity and economic opportunities. Employment in commercial transport industries accounts for about 5% of Canadian jobs, a share that has remained stable over the past two decades. In 2016, Canada's combined total household spending on transportation (including insurance) was $179.5 billion – second only to shelter, in terms of major spending categories. Household spending for personal travel accounted for about 10% of GDP. Read more about the Canadian Transportation System.
Features
Transportation 2030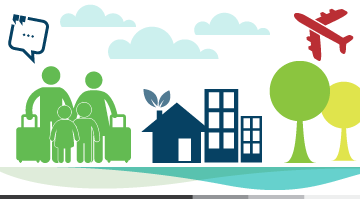 Transportation 2030: A strategic plan for the future of transportation in Canada
Canada and the World Statistics Hub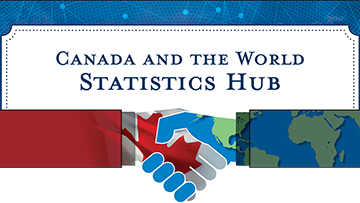 The Canada and the World Statistics Hub provides information related to Canada's economic and financial activity with the world. It brings together data from a number of Statistics Canada products and presents it in a single interactive analytical tool.