Transportation Data and Information Hub
March 2019

March 2019

March 15, 2019

Pre-load Air Cargo Targeting (PACT) pilot

The Pre-load Air Cargo Targeting (PACT) pilot is an exciting project led by Transport Canada's Aviation Security Directorate. The project uses air cargo data sent from freight forwarders and air carriers to identify high-risk shipments before they are loaded onto an aircraft coming to Canada. Since 2012, the Aviation Security Directorate has been working hard to develop the concepts to make this pilot successful.

Internationally, this concept is known as pre-loading advance cargo information (PLACI). Canada's PACT was the second pilot to test this concept and stands out among a handful of pilots testing PLACI concepts. In partnership with other Government of Canada departments and industry stakeholders, PACT has seen a rising influx of data. The PACT team receives an average of nearly one million air cargo messages per year from a limited number of voluntary industry participants. According to Canada Border Services Agency estimates, most air cargo comes to Canada from the United States (upwards of 75%), and the one million messages per year represent only around 15% of inbound air cargo.

Because Transport Canada recognizes the security value of the PLACI concept, the introduction of PACT has been deliberate and focused. Thanks to the recent departmental artificial intelligence initiative, the PACT team is on the cusp of developing the algorithms and message intake capability to handle a much larger volume of air cargo messages. This would provide the team with the tools to assess the risk for all messages received by PACT, and the capacity to receive more messages and intake from more voluntary participants.

In the next phase, and with assistance from the International Air Transport Association, the team will work with local companies to develop a message portal for handling all the data. The team will continue to develop the risk algorithm to better understand cargo information. The team will also look at a wider range of data to help Transport Canada targeters from the PACT team identify high-risk cargo and expand and increase the number of messages assessed for risk.

For more information, please contact Statistics Canada (toll-free 1-800-263-1136; 514-283-8300; STATCAN.infostats-infostats.STATCAN@canada.ca).
February 2019

February 2019

February 15, 2019

Metrics for container port terminal trucking

Transport Canada co-funded initiatives to monitor trucking activity at port terminals within three of Canada's busiest container ports in Vancouver, Montréal and Halifax as part of its Transportation 2030 policy goals to promote more efficient use of transportation networks across Canada.

The initiatives leverage radio frequency identification (RFID) and global positioning system (GPS) technologies to track truck movements on port land in and around the ports' container terminals. They provide insights on average truck queuing times at terminal gates and time spent picking up and dropping off containers inside the terminals.

All three initiatives are operational and provide industry members—including ports, terminal operators and truckers—detailed real-time and historical information on wait times. The information provides insights on congestion at the port terminals and allows for truckers to better plan activities based on current and expected wait times. The information is disseminated to truckers through mobile apps and, in some cases, is publicly posted on port authority websites.

The reported truck wait times for each port are available at the links below:

For more information, please contact Statistics Canada (toll-free 1-800-263-1136; 514-283-8300; STATCAN.infostats-infostats.STATCAN@canada.ca).
January 2019

January 2019

January 15, 2018

Transport Canada's bikeability model

As part of its Transportation 2030 policy goals to create safer, greener and more efficient transportation networks across Canada, Transport Canada is focusing on building and maintaining safe, efficient and connected cycling networks. As a result, the Department developed a bikeability model using multiple urban mobility indicators with an increased focus on safety. This model measures infrastructure readiness for enabling cycling as a safe and efficient commuting option. It is intended to inform infrastructure investments and active mobility policies in order to maximize the efficiency of and safety improvements to Canada's cycling network at a minimal cost.

The model was developed in Ottawa and is currently being tested in Sherbrooke, Quebec, and Mississauga, Ontario. It was built to generate both the fastest and the safest routes on a specified origin–destination pair. If testing proves successful, the bikeability model could be expanded on a much larger scale and help guide infrastructure investments to support safe and efficient active transportation across Canada.

Figure 1 and Table 1 show an example of the model being tested in Ottawa.

Figure 1: Bikeability model proof of concept: Fastest (top) and safest (bottom)

Description for Figure 1

The figure includes two images of downtown Ottawa, showing two bike routes between the same start and end points.

The first image shows the fastest route. The fastest route involves taking more turns and biking a short distance on various streets. The route is estimated to be 14 minutes long.

The second image shows the safest route. The safest route involves only turning when necessary and biking long straight distances. The route is estimated to be 18 minutes long.

Table 1: Summary of case-study simulation trip results
Average value
Safest route
Fastest route
Approximate change (%)
Trip length (m)
4,961
4,724
5
Trip duration (min)
23.94
21.18
13
Average speed (km/h)
12.4
13.4
7.5
Source: Szyszkowicz, S. (2018). Bikeability as an Indicator of Urban Mobility. Carleton University, Ottawa, Ontario.

For more information, please contact Statistics Canada (toll-free 1-800-263-1136; 514-283-8300; STATCAN.infostats-infostats.STATCAN@canada.ca).
Welcome to the Transportation Data and Information Hub, developed in partnership by Transport Canada and Statistics Canada to provide you with an authoritative source of data and information about transportation in Canada. The Hub is part of the Canadian Centre on Transportation Data (CCTD).
Want to know more? Read more about the CCTD and the Hub.
Resources
The Canadian Transportation System
A healthy Canadian economy is strongly connected to a well-functioning transportation sector. Transportation allows products, services and people to access key markets at home and abroad. This helps create prosperity and economic opportunities. Employment in commercial transport industries accounts for about 5% of Canadian jobs, a share that has remained stable over the past two decades. In 2016, Canada's combined total household spending on transportation (including insurance) was $179.5 billion – second only to shelter, in terms of major spending categories. Household spending for personal travel accounted for about 10% of GDP. Read more about the Canadian Transportation System.
Features
Transportation 2030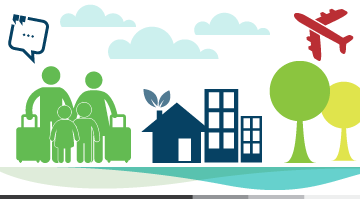 Transportation 2030: A strategic plan for the future of transportation in Canada
Canada and the World Statistics Hub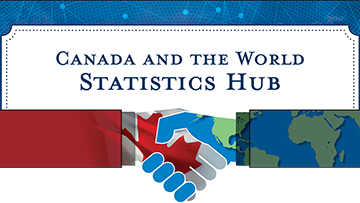 The Canada and the World Statistics Hub provides information related to Canada's economic and financial activity with the world. It brings together data from a number of Statistics Canada products and presents it in a single interactive analytical tool.