Transportation Data and Information Hub
December 2022

December 2022

December, 2022

Vehicle Registrations, 2021

Statistics Canada has just released a new series on motor vehicle registrations, featuring a breakdown of vehicle type by fuel. The following highlights are from the Daily release, available here.

The total number of road motor vehicles registered in Canada increased to 26.2 million in 2021, up 1.9% over 2020. At 24.1 million, light duty vehicles (LDVs) accounted for 9 out of every 10 motor vehicles registered in 2021, with passenger cars remaining the most common type. However, registrations of multi-purpose vehicles have experienced the most growth over the last five years.

Canadians' heightened focus on clean energy is reflected in registrations by type of fuel. While 94.9% of all registered LDVs remained motor gasoline in 2021, there were 303,073 hybrid electric vehicles (HEVs) as well as 152,685 battery electric vehicles (BEVs) and 95,896 plug-in electric vehicles (PHEVs) registered. All three of these categories grew sharply from 2020, with notable increases of 24.4% for PHEVs and 48.1% for BEVs.

While there were more electric vehicles being registered across the country, British Columbia and Quebec led the way, with PHEVs and BEVs accounting for roughly 2.0% of all registered light duty vehicles in 2021.

Data on vehicle registrations were taken from CODR table 23-10-0308.

Please visit the Light and medium duty vehicle registrations: Interactive Dashboard to interact with the data.
September 2022

September 2022

September, 2022

Traffic Flow Dashboard

Statistics Canada has launched the Traffic Flow Dashboard as experimental statistical information on the traffic flow on selected road segments in the cities of Calgary and Toronto.

This dashboard shows traffic count data that is obtained from traffic camera imagery using a computer vision-based system developed in the Data Exploration and Integration Lab (DEIL) at Statistics Canada. The system periodically extracts traffic flow images from the Application Programmable Interfaces (APIs) of municipal and provincial traffic camera programs. Vehicle detection was implemented using the open source You Only Look Once version 3 (YOLOv3) object detection model. The output is used to generate real-time counts of the detected vehicles (cars, trucks, buses, motorcycles).

More information on the methods used to generate traffic flow estimates can be found at the link below.

Traffic volume estimation from traffic camera imagery: Toward real-time traffic data streams
July 2022

July 2022

July, 2022

Transport Canada has released its 2021 annual report

The report Transportation in Canada 2021 provides an overview of the Canadian transportation sector and includes information on:

the importance of the transportation sector to the economy
the performance of the transportation system from a multimodal perspective
major industry and regulatory developments related to freight, passengers, safety, security, and the environment for all modes of transportation

This year, as is mandated every five years, Transport Canada is publishing a comprehensive version of the Transportation in Canada report to expand upon the traditional reporting and include additional information on:

government expenditures and revenues, including those related to COVID-19,
trends and innovation within the transportation sector, and
the outlook of the transportation sector.

Furthermore, Transport Canada is expanding the interactivity of the e-book format adopted in 2020 and providing interactive mapping within the electronic document. Additional data and information tables from the Transportation Statistical Addendum will soon be published and available for public access.
Features
Welcome to the Transportation Data and Information Hub, developed in partnership by Transport Canada and Statistics Canada to provide you with an authoritative source of data and information about transportation in Canada. The Hub is part of the Canadian Centre on Transportation Data (CCTD).
Want to know more? Read more about the CCTD and the Hub.
Also available: COVID-19 measures, updates, and guidance issued by Transport Canada
Resources
The Canadian Transportation System
A healthy Canadian economy is strongly connected to a well-functioning transportation sector. Transportation allows products, services and people to access key markets at home and abroad. This helps create prosperity and economic opportunities. Employment in commercial transport industries accounts for about 5% of Canadian jobs, a share that has remained stable over the past two decades. In 2016, Canada's combined total household spending on transportation (including insurance) was $179.5 billion – second only to shelter, in terms of major spending categories. Household spending for personal travel accounted for about 10% of GDP. Read more about the Canadian Transportation System.
Related products
Transportation 2030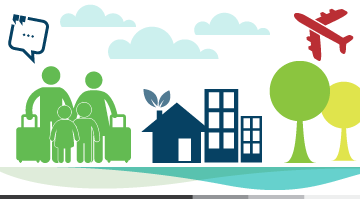 Transportation 2030: A strategic plan for the future of transportation in Canada
Canada and the World Statistics Hub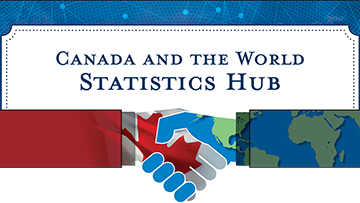 The Canada and the World Statistics Hub provides information related to Canada's economic and financial activity with the world. It brings together data from a number of Statistics Canada products and presents it in a single interactive analytical tool.
Report a problem on this page

Is something not working? Is there information outdated? Can't find what you're looking for?

Please contact us and let us know how we can help you.
Date modified: