Transportation Data and Information Hub
July 2020

July 2020

July 24, 2020

Chemicals and Plastics update to the Weekly Rail Performance Indicators

Transport Canada would like to announce a change to the Weekly Rail Performance Indicators, to include "Chemicals or allied products" as a distinct service type in the 'Cars that have not moved, 48 hours or greater' metrics. This service type will include all Standard Transportation Commodity Code (STCC) 28 commodities not otherwise reported under ethanol or fertilizer. This change will enable greater transparency into rail service for the chemicals or allied products sector.

Introduced in transitional provisions in the Transportation Modernization Act (TMA), 2018, class 1 rail carriers are required to report Weekly Rail Performance Indicators, as the requirement is incorporated by reference from paragraphs (1) to (8) of Title 49 of the United States Code of Federal Regulations as amended from time to time. The United States Surface Transportation Board recently adopted a final rule amending its railroad performance data reporting regulations to include chemicals and plastics traffic, as a distinct reporting category for the 'Cars-Held' metric. As a result of this change in the United States, the reporting requirements under the TMA transitional provisions have been similarly modified.

Regulatory Development Update

Transport Canada is undertaking a regulatory development process to amend the Transportation Information Regulations to replace the TMA's transitional provisions regarding the Weekly Rail Performance Indicators.

Transport Canada anticipates consulting publicly on its proposed approach in the fall of 2020. If you are interested in participating in these consultations or receiving further information when the consultations are launched, please contact TC.freightrail-fretferroviaire.TC@tc.gc.ca.
June 2020

June 2020

June 23, 2020

Transport Canada has released its 2019 annual report

The Transportation in Canada 2019 Overview Report is now available online on the Transport Canada Website. The report gives an overview of the Canadian transportation sector and includes information on

the importance of the transportation sector to the economy
the performance of the transportation system from a multimodal perspective
major industry and regulatory developments related to freight, passengers, safety, security and the environment for all modes of transportation.

The 2019 report also informs Canadians about the impacts of the COVID-19 pandemic on the transportation demand, challenges faced by the transportation system and different measures taken by the Government of Canada to help alleviate those challenges.

Key report highlights

The year 2019 was marked by slower economic growth than 2018 which translated into softer growth in transportation demand and reduced pressure on the system. This contributed to improved transportation performance indicators over the year.
The system faced significant challenges in 2019, notably harsh weather conditions and a week-long strike at CN Rail which disrupted the flow of goods across Canada. Despite this, the system was able to adjust and operate at comparable levels to 2018, showing the resilience of the system.
Transportation-related greenhouse gas emissions increased overall due to increased traffic. However, there have been some notable improvements in each mode in terms of emission intensity.
The number of accidents remained under or close to the 10 year average for all modes of transportation except rail which recorded a small increase in 2019.

A statistical addendum to this report is also available on demand at: TCAnnualReport-RapportannuelTC@tc.gc.ca.
April 2020

April 2020

April 9, 2020

Canadian Economic Dashboard and COVID-19

On January 25, Canada confirmed its first case of COVID-19. Within two months, the COVID-19 pandemic had spread across the country, affecting the Canadian transportation industry, and many other parts of the economy. The Canadian Economic Dashboard and COVID-19 dashboard from Statistics Canada presents specific indicators to monitor the impact of the pandemic on Canada's economic activity.

The dashboard includes 16 indicators, including air and railway transportation, and travel. It lets users track the impact of COVID-19 over time, and will be updated as new data and analysis become available. More indicators may be added to the dashboard as circumstances warrant.

The activity and performance indicators on the Transportation Data and Information Hub will be updated in mid-April, but other data may not be updated due to operational issues caused by the pandemic.

Also available: COVID-19 measures, updates, and guidance issued by Transport Canada
Features
Welcome to the Transportation Data and Information Hub, developed in partnership by Transport Canada and Statistics Canada to provide you with an authoritative source of data and information about transportation in Canada. The Hub is part of the Canadian Centre on Transportation Data (CCTD).
Want to know more? Read more about the CCTD and the Hub.
Also available: COVID-19 measures, updates, and guidance issued by Transport Canada
Resources
The Canadian Transportation System
A healthy Canadian economy is strongly connected to a well-functioning transportation sector. Transportation allows products, services and people to access key markets at home and abroad. This helps create prosperity and economic opportunities. Employment in commercial transport industries accounts for about 5% of Canadian jobs, a share that has remained stable over the past two decades. In 2016, Canada's combined total household spending on transportation (including insurance) was $179.5 billion – second only to shelter, in terms of major spending categories. Household spending for personal travel accounted for about 10% of GDP. Read more about the Canadian Transportation System.
Related products
Transportation 2030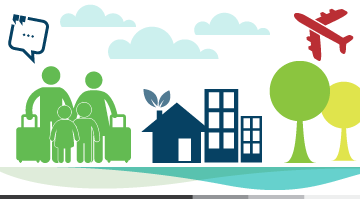 Transportation 2030: A strategic plan for the future of transportation in Canada
Canada and the World Statistics Hub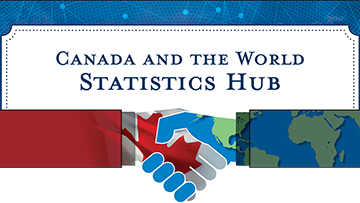 The Canada and the World Statistics Hub provides information related to Canada's economic and financial activity with the world. It brings together data from a number of Statistics Canada products and presents it in a single interactive analytical tool.
Report a problem on this page

Is something not working? Is there information outdated? Can't find what you're looking for?

Please contact us and let us know how we can help you.
Date modified: