Transportation Data and Information Hub
October 2018

October 15, 2018

Legislative and oversight modernization

The Canadian transportation system is becoming increasingly complex, with technological changes reshaping industries, revolutionizing business models and creating brand new markets. At the same time, innovation and technological change have raised the expectations of the industry and the public that the government will take real-time action.

Many of the Government of Canada's priorities seek to address the shift to a digital economy, demonstrate results based on evidence, and foster innovation and economic competitiveness.

To help meet these challenges, Transport Canada (TC) has undertaken an ambitious transformation agenda that includes two feature initiatives, which focus on modernizing its safety and security legislative and oversight regimes.

The legislative modernization initiative is about modernizing TC's core acts of Parliament, which authorize TC's safety and security programs. The goal is to transform the safety and security legislative regime to ensure that TC can better promote efficiency and innovation. The initiative also aims to ensure that TC has the requisite tools to manage risk through a more comprehensive and flexible oversight regime, and that it can access the necessary data to identify and manage emerging issues.

Oversight modernization is about improving TC's capability to analyze and leverage transportation-related data to inform its approach to public risk management (i.e., the risks that Canadians face when they use the transportation system). The goal is to enhance TC's ability to understand risks throughout the transportation system, while incorporating results into its safety and security programs so that public risks are minimized (e.g., fatality rates from transportation accidents).

Taken together, these initiatives will expand the department's knowledge base on risk-related data and performance. This will enhance TC's ability to measure and report results over time.

For more information, please contact Statistics Canada (toll-free 1-800-263-1136; 514-283-8300; STATCAN.infostats-infostats.STATCAN@canada.ca).
September 2018

September 17, 2018

Trade diversification at a glance

Canada's transportation system supports Canada's global trade, evaluated at $1.1 trillion in 2017. Of that amount, 63.4% originated in or was destined for the United States, our main trading partner. The United States was the destination for 75.9% of Canadian exports and the origin of 51.3% of imports into the Canadian marketplace (tables 1 and 2).

Canada's trade has become more diversified over the last two decades. In 1998, 84.8% of Canadian exports were destined for the United States and 68.2% of Canadian imports originated there. China and the United Kingdom are increasingly important as destinations for Canadian exports. China's share of Canadian exports grew from 0.8% in 1998 to 4.3% in 2017, while the United Kingdom saw its share increase from 1.4% in 1998 to 3.2% in 2017. The concentration ratio of destination markets (also known as the Herfindahl-Hirschman Index, which ranges from 0 [no concentration] to 1 [perfect concentration]) decreased from 0.72 in 1998 to 0.57 in 2016. This finding indicates that the destination of Canadian exports over those two decades became significantly more diversified.Footnote 1

Diversification is even more pronounced with respect to imports, as a result of increased trade with China and Mexico. Imports from these two countries each accounted for 2.6% of the Canadian total in 1998, but imports from China had increased to 12.6% and imports from Mexico had reached 6.3% by 2017.

Table 1 – Exports to Canada's top trading partners, customs basis, 1998 and 2017
value ($ millions)
share (%)
1998
2017
1998
2017
Total
318,415
546,593
100.0
100.0
United States
269,905
414,620
84.8
75.9
China
2,498
23,612
0.8
4.3
United Kingdom
4,412
17,696
1.4
3.2
Japan
8,635
11,831
2.7
2.2
Mexico
1,467
7,853
0.5
1.4
Other
31,498
70,981
9.9
13.0
Source: Statistics Canada, Table 12-10-0011-01, International merchandise trade for all countries and by Principal Trading Partners (× 1,000,000).

Table 2 – Imports from Canada's top trading partners, customs basis, 1998 and 2017
value ($ millions)
share (%)
1998
2017
1998
2017
Total
298,386
561,448
100.0
100.0
United States
203,578
288,298
68.2
51.3
China
7,651
70,927
2.6
12.6
Mexico
7,682
35,506
2.6
6.3
Germany
6,081
17,935
2.0
3.2
Japan
14,015
17,522
4.7
3.1
Other
59,379
131,260
19.9
23.4
Source: Statistics Canada, Table 12-10-0011-01, International merchandise trade for all countries and by Principal Trading Partners (× 1,000,000).

Changing trade patterns have affected Canada's transportation system by shifting some of its focus towards supporting growing trade with Asia. For example, the $2 billion National Trade Corridors Fund seeks to make Canada's transportation system more efficient and more resilient to better connect Canada to the rest of the world. 

In the coming decades, Asia, especially China and India, as well as Latin America could become more important trade partners for Canada. The United States should continue to be Canada's most important trading partner, but to a somewhat lesser degree. The transportation system will therefore be called upon to serve these growing markets while adopting new technologies that will support Canada's connectedness and competitiveness.

For more information on international trade and a closer look at Canada's trade relationship with key countries, please visit the Canada and the World Statistics Hub.
August 2018

August 15, 2018

Transport Canada's five supply-chain visibility projects were launched in 2017 with the objective of improving the efficiency and connectivity of the national multimodal transportation network. One of these projects is the Greater Toronto Area e-commerce supply-chain visibility project. This project aims to increase the visibility of e-commerce supply chains to identify strategic infrastructure and data needs, as well as policy questions affecting the three levels of government.

As part of this project, an e-commerce discussion forum was held in Toronto, Ontario, on June 27, 2018. Participants from all levels of government, industry and academia met to discuss the impacts of e-commerce on Canada's transportation network to gain a better understanding of the e-commerce supply chain and logistics across various levels (national, regional and local). The forum was jointly organized by Transport Canada, the Region of Peel, the Ministry of Transportation of Ontario and the University of Toronto Transportation Research Institute.

The forum consisted of an opening panel discussion and four discussion sessions where the following issues were highlighted:

The Canadian transportation sector needs to continue improving its understanding of e-commerce and must continue to prepare for the expected increased growth in e-commerce.
A greater emphasis should be placed on understanding the possible impact e-commerce will have on data collection to avoid a data gap.
Increased collaboration is required with key stakeholders from various modes throughout the supply chain to address infrastructure and policy challenges.
E-commerce is bringing new delivery methods. A project was announced at the forum between the Pembina Institute, UPS and Transport Canada to look at the impact of micro hubs, supported by cargo bikes, in cities.

Transport Canada will continue to work with its partners and stakeholders to ensure that Canada's transportation system is equipped to support the growing e-commerce sector. The next forum is expected to take place in fall 2018.

For more information, please contact Statistics Canada (toll-free 1-800-263-1136; 514-283-8300; STATCAN.infostats-infostats.STATCAN@canada.ca).
Welcome to the Transportation Data and Information Hub, developed in partnership by Transport Canada and Statistics Canada to provide you with an authoritative source of data and information about transportation in Canada. The Hub is part of the Canadian Centre on Transportation Data (CCTD).
Want to know more? Read more about the CCTD and the Hub.
Resources
The Canadian Transportation System
A healthy Canadian economy is strongly connected to a well-functioning transportation sector. Transportation allows products, services and people to access key markets at home and abroad. This helps create prosperity and economic opportunities. Employment in commercial transport industries accounts for about 5% of Canadian jobs, a share that has remained stable over the past two decades. In 2016, Canada's combined total household spending on transportation (including insurance) was $179.5 billion – second only to shelter, in terms of major spending categories. Household spending for personal travel accounted for about 10% of GDP. Read more about the Canadian Transportation System.
Features
Transportation 2030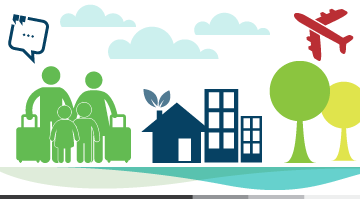 Transportation 2030: A strategic plan for the future of transportation in Canada
Canada and the World Statistics Hub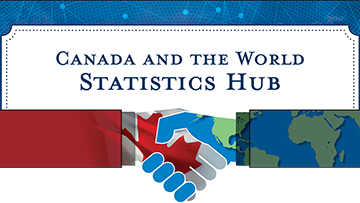 The Canada and the World Statistics Hub provides information related to Canada's economic and financial activity with the world. It brings together data from a number of Statistics Canada products and presents it in a single interactive analytical tool.