Transportation Data and Information Hub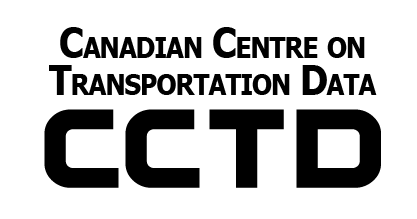 May 15, 2018
May 2018
The Transportation Data and Information Hub, a product of the Canadian Centre on Transportation Data, provides enhanced analytics of Canada's transportation system. The following new data sources were recently released:
The Canadian Freight Analysis Framework provides a picture of freight flows across the country by geography, commodity and mode of transport. Estimates are available by tonnage, value, and tonne-kilometres. The database can be used to analyze a number of transportation-related matters, such as highway capacity, traffic forecasting, investments in infrastructure, as well as trade flows.
The Canadian Transportation Economic Account (CTEA) provides a comprehensive measure of the transportation sector's role in the Canadian economy. The CTEA will, for the first time, present data from the National Economic Accounts for own-account transportation services produced by non-transportation industries.
For more information on the statistics presented in the Hub, please contact Statistics Canada (toll-free 1-800-263-1136; 514-283-8300; STATCAN.infostats-infostats.STATCAN@canada.ca).
Welcome to the Transportation Data and Information Hub, developed in partnership by Transport Canada and Statistics Canada to provide you with an authoritative source of data and information about transportation in Canada. The Hub is part of the Canadian Centre on Transportation Data (CCTD).
Want to know more? Read more about the CCTD and the Hub.
Resources
The Canadian Transportation System
A healthy Canadian economy is strongly connected to a well-functioning transportation sector. Transportation allows products, services and people to access key markets at home and abroad. This helps create prosperity and economic opportunities. Employment in commercial transport industries accounts for about 5% of Canadian jobs, a share that has remained stable over the past two decades. In 2016, Canada's combined total household spending on transportation (including insurance) was $179.5 billion – second only to shelter, in terms of major spending categories. Household spending for personal travel accounted for about 10% of GDP. Read more about the Canadian Transportation System.
Features
Transportation 2030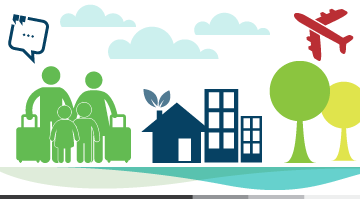 Transportation 2030: A strategic plan for the future of transportation in Canada
Canada and the World Statistics Hub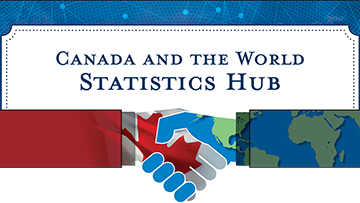 The Canada and the World Statistics Hub provides information related to Canada's economic and financial activity with the world. It brings together data from a number of Statistics Canada products and presents it in a single interactive analytical tool.