Transportation Data and Information Hub
October 2019

October 2019

October 15, 2019

Rail shipments now part of dashboard

As society becomes increasingly data-driven, Canadians now expect to receive statistical information in a more accessible form. The Transportation Data and Information Hub was designed to gather and deliver transportation-related statistics in a user-friendly and interactive manner. Since April 2019, the Hub has featured an interactive dashboard with statistics on air (both aircraft movements and airport activity), fuel sales and international travellers. Data on rail industry origin and destination of transported commodities have recently been added to the dashboard.

This new rail option features the metric tonnes shipped for 11 distinct commodity groupings across eight provinces and regions during the reference years 2010 to 2017. A point and click capability allows the user to quickly move across the country and over time to display the desired movements as a chart, map or table. For example, a user can select the tonnes of wheat moving by rail from Saskatchewan to British Columbia in 2010 and then—with just a few clicks—find the tonnes of iron ore and concentrates transported by rail from Quebec to the Atlantic region in 2017.

For more information, please contact Statistics Canada (toll-free 1-800-263-1136; 514-283-8300; STATCAN.infostats-infostats.STATCAN@canada.ca).
September 2019

September 2019

September 16, 2019

The Canadian Centre for Tourism and Transportation Statistics

Canadian society and the Canadian economy are becoming increasingly data-driven. In response and as part of an effort to modernize, Statistics Canada has embarked on a journey to ensure that Canadians receive the data they need, when they need them. This journey involves using leading methods and integrating alternative data sources to produce more user-centric information products. A recent organizational change at Statistics Canada exemplifies this user-centric focus.

In July, the Chief Statistician announced the creation of a new Canadian Centre for Tourism and Transportation Statistics. This centre will bring together the tourism program and its travel surveys with the transportation program and its emphasis on industry-based statistics. Despite the complementary data and subject matter, as well as overlapping user communities, these two programs were separated organizationally at Statistics Canada.

How will this change affect our user communities? Both programs deliver many key products essential for policy, regulation and research. As such, it will be "business as usual" in the short term, and the new centre will continue to honour its existing data commitments. One potential enhancement may be a wider array of statistics on the Transportation Data and Information Hub. Moving forward, the centre will begin harnessing complementary program elements to create innovative data products.

For more information, please contact Statistics Canada (toll-free 1-800-263-1136; 514-283-8300; STATCAN.infostats-infostats.STATCAN@canada.ca).
August 2019

August 2019

August 15, 2019

2019 North American Transportation Statistics Interchange

North American Transportation Statistics (NATS) is a trilateral initiative of American, Canadian and Mexican agencies responsible for transport policy (i.e., the U.S. Department of Transportation, Transport Canada and the Secretaría de Comunicaciones y Transportes) and statistics (i.e., the U.S. Census Bureau, Statistics Canada and the Instituto Nacional de Estadística y Geografía). Transport regulatory reform was part of a larger effort to usher in new trade agreements. NATS was created with the North American Free Trade Agreement in the early 1990s to ensure the production of internationally comparable transport statistics.

Directed by a strategic planning committee, thematic working groups for the economy, energy and the environment, as well as freight and passengers, connect via email and conference calls. An annual interchange allows participants to meet and set priorities. Canada hosted the 2019 Interchange in Montréal from May 21 to 24. A series of plenaries and sessions were organized around the theme "Transportation Statistics—Beyond the Traditional Survey." Speakers included representatives from Airbiz Aviation, Intact, the City of Montréal, and the Railway Association of Canada and its member agencies.

Featured topics included the digital economy, alternative data sources and partnerships in the industry, as well as specific matters such as supply chain visibility platforms, the classification of ride-sharing services, metrics on network vulnerability and the use of geospatial methods for data on road accidents. NATS has evolved from producing tabular data and then providing online access to data to becoming a nexus for identifying best practices (e.g., trade in value added, or TiVA, and satellite accounts) and providing a network of international stakeholders. Learn more about NATS by visiting the North American Transportation Statistics site.
Welcome to the Transportation Data and Information Hub, developed in partnership by Transport Canada and Statistics Canada to provide you with an authoritative source of data and information about transportation in Canada. The Hub is part of the Canadian Centre on Transportation Data (CCTD).
Want to know more? Read more about the CCTD and the Hub.
Resources
The Canadian Transportation System
A healthy Canadian economy is strongly connected to a well-functioning transportation sector. Transportation allows products, services and people to access key markets at home and abroad. This helps create prosperity and economic opportunities. Employment in commercial transport industries accounts for about 5% of Canadian jobs, a share that has remained stable over the past two decades. In 2016, Canada's combined total household spending on transportation (including insurance) was $179.5 billion – second only to shelter, in terms of major spending categories. Household spending for personal travel accounted for about 10% of GDP. Read more about the Canadian Transportation System.
Features
Transportation 2030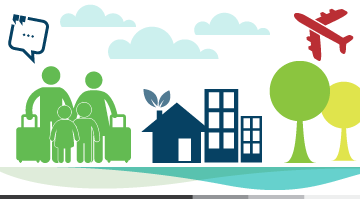 Transportation 2030: A strategic plan for the future of transportation in Canada
Canada and the World Statistics Hub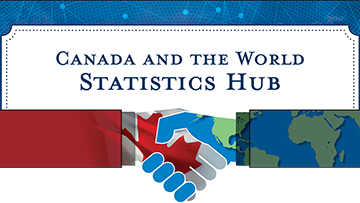 The Canada and the World Statistics Hub provides information related to Canada's economic and financial activity with the world. It brings together data from a number of Statistics Canada products and presents it in a single interactive analytical tool.